Pendant with a Purpose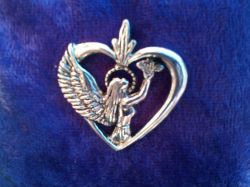 Pendant with a Purpose
Wearing this stunning, hand-crafted Angelic pendant with the Blessings & Miracles is
A wonderful way to honor yourself and gift others.
An Angel of protection.
She represents the Angelic Kingdom watching over you. Knowing that you are always
Loved, Protected and Blessed.
'You are Always Blessed by your Unlimited Angels'
"A Gift to remind you just how supported and Loved you really are"
With More Blessings than you can count
Order Here Today